Robust and powerful rotary stretch wrapper turntable that is designed to help users wrap products in stretch wrap film efficiently and effectively. The machine has a steel plate structure that forms the backbone of the device and provides a strong and stable foundation for wrapping products. It also has an adjustable rotating arm feature that allows users to adjust the length of the arm to accommodate products with different dimensions. The maximum wrapping dimensions for the Rotary are 55″ x 55″, while the minimum wrapping dimensions are 16″ x 16″. This wide range of adjustability allows users to wrap a variety of different sized products with the Rotary.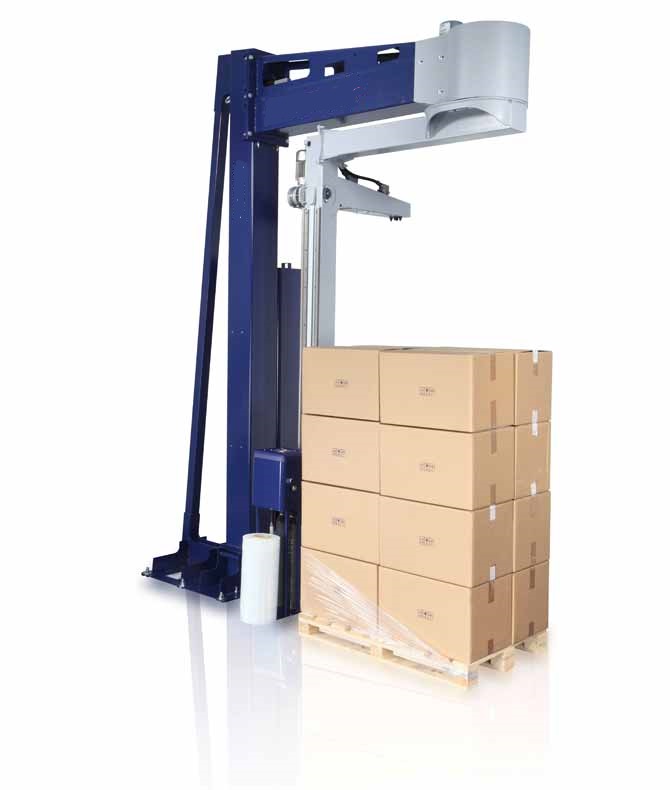 Stretch wrap turntable is equipped with a powered stretch system that is controlled by two independent motors. The stretch ratio of the film can be adjusted from the panel board, with a range of 150% to 400%. The force applied to the load being wrapped can also be controlled using a patented electronic device and is adjustable from the panel board. These features likely allow users to customize the stretch wrap process to suit the specific needs of the product being wrapped, ensuring that it is securely and effectively wrapped for transport.
Rotary stretch wrap turntable is a highly flexible and user-friendly machine that is designed to allow users to wrap a wide range of products with confidence. The patented roll carriage design and CUBE Technology reportedly allow users to wrap any load with any film, making it a versatile and adaptable solution for stretch wrapping needs. The machine also has an intuitive touchscreen interface with icon-driven controls, which makes it easy to set up the correct wrapping parameters for each load. Users can reportedly control the containment force, rotation speed, roping, and banding at nine levels, further enhancing the customization options available for the wrapping process. Overall, these features make the Rotary stretch wrap turntable a powerful and user-friendly tool for stretch wrapping needs.
Contact:
www.fhopepack.com
info@fhopepack.com